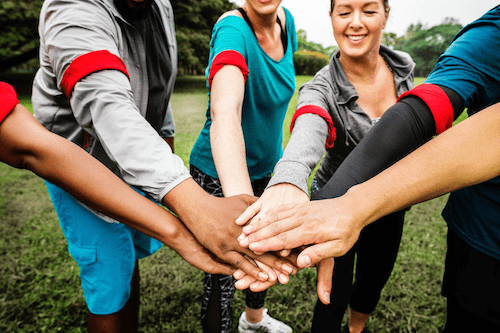 July 2022 Newsletter
Read our full newsletter, here.
A Journey To Living Wholeheartedly
This a testimonial from our dear friend, Will Hunter. 
"Seeing how real and how life-changing the Discovering Mercy Ministry is, I offered Audrey and Fern my assistance in helping with the physical maintenance of the ministry house. In February my family visited the ministry house to assess the home and the ministry firsthand. During the visit, I had the honor of being asked to consider joining the Discovering Mercy Board. After prayerful consideration, I felt led to help with the house and to join the board." -- Will Hunter
Press Play: The Lost Coin
A personal representation by Fern as to why children unknowingly use shame to stay in relationships with caregivers.
In this shared story by Fern, she revisits an insightful moment with her grandson Dylan and 'The Lost Coin'. Fern shares the experience that showcases a child's ability to adapt their relationships with their caregivers by reading and evolving to the emotions around them. Fern illustrates, "if someone puts their emotions on the table, in relationship to how they are feeling, you never have to pick up those emotions and wear them as your shame."
While this is a valuable, reflective moment for children to learn, anyone can apply this ideology to any relationship in their life. No matter the season of life you are in, you should use your emotions to self-reflect and add to conversations centered around one's emotions. But, you never have to pick up someone else's emotions and wear them as your shame. 
This valuable insight featured by Fern can be found within our Discovering ME: Foundational Course. Want to learn more about our upcoming Curriculum course? Click here!
Our Newest Board Members!
We are so grateful to announce that we have expanded our team! We've added four new members to our Board of Directors: Annerose Lederman, Will Hunter, Roni Daily, and Kristen Cressman, who has joined our Discovering MErcy team as our new Director of Operations.
See how our newest members found Discovering MErcy:
"I was immediately drawn to their heart for survivors and saw a huge void in the church for the type of ministry they provide. I felt the Lord encouraging her to be a part of this mission, in some way, and thus decided to enroll in Discovering Mercy's Foundational Counseling curriculum course. That transformational experience only furthered her passion to see through and aid the Church for better equipped to journey alongside trauma survivors, compassionately care for our neighbors, experience the power of wholehearted living, and effectively build Kingdom!" -- Annerose Lederman
"Through the ministry of Discovery MErcy I found there are ways to truly help those trapped in trauma, and in so doing also break the generational "curse" that often gets passed down. I am beyond excited to be a part of this crucial ministry and to see my childhood dreams of seeing captives free come true!" -- Roni Daily
"The counseling and guidance I've received at Discovering MErcy have transformed my life. It's been amazing to watch them grow over the years. The work that is done is truly life-changing. The genuine love that is shown to others through their teaching and counseling is like none other." -- Kristen Cressman