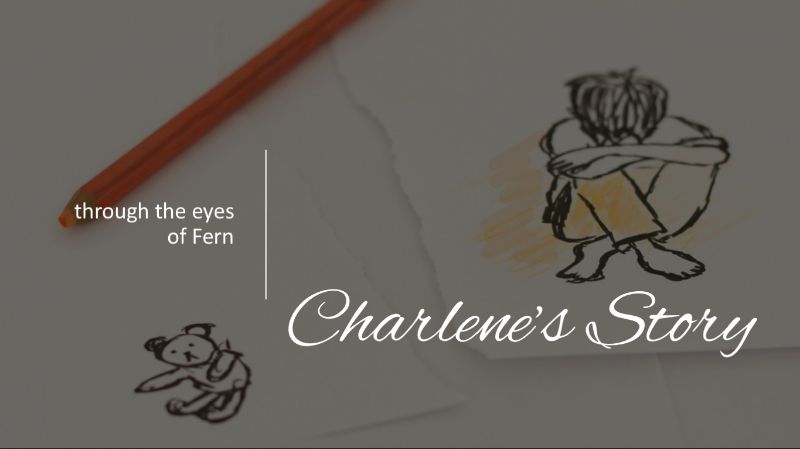 October 2018
Click here for HMTL version

A Brighter Future Starts Here
Discovering MErcy, home to Fern and Audrey as featured on the Naked Bible Podcast, participated in a two-day faith-based conference recently to raise awareness of adult survivors of physical, sexual, emotional and mental abuse. As headlines around the world continue to address the lament and costs of ritual sex abuse in the Catholic church and sexual assault/harassment among government officials, the need to rescue adults who have been traumatized continues to escalate. Together, with your support, we can help. 
I would like to share Charlene's story. It is a true story and a familiar one I've heard for more than 20 years from hundreds of survivors of satanic ritual abuse and human trafficking from all over the world. The graphic details are intentionally left out so that her story is not sensationalized. Sensationalizing the story details doesn't help the survivor but hearing their heart and loving them sets the person free.

During Charlene's initial sessions it merely seemed she was overwhelmed with a busy married life, working full-time with five active children. Charlene's husband, although a leader in the church, was very controlling and abusive, and his abuse worsened during the counseling process - sexual assaults became more aggressive, with constant demands for total obedience and privacy for herself forbidden.

But that was only the surface of the story. The darkest parts of Charlene's story were very hidden. Six months into our sessions, stories of black hoods, altars and ritual abuse surfaced accompanied by terror and spiritual oppression, followed by stories of being naked in cages, on stainless steel tables and in white rooms. Then came stories of parties held by government officials with child pornography, escorts and couriers. The story sunk to the deepest level of depravity known to man.
With resolve to survive what seemed unsurvivable, Charlene used the defense mechanism of dissociation and lived out of the fragments of her mind, which was the only safety she knew. (Dissociation or DID, Dissociative Identity Disorder is a defense mechanism to protect the psyche, formerly called Multiple Personality Disorder.) Once she knew how to survive trauma by fleeing from the pain, Charlene could flee as often as she needed by creating someone new to take her place in the pain, so she didn't have to live in constant terror. All Charlene's parts began to tell their story.
Over the next five years, I journeyed with Charlene as she fought for freedom from the oppression of an abusive husband, mind control, spiritual oppression and domination, and fear and terror that controlled her life.

She began her journey into freedom to think, choose, receive love, give love and live in love, not fear. Today, Charlene and her children are safe. She is a brilliant woman, living life well and possesses a strong sense of self! Charlene is just one of many survivors God has used our ministry to transform.
Why Need for Services Increase During Holiday Seasons
Holidays are very difficult for trauma survivors.  Perpetrators can often be connected to holidays, birthdays and special events for a survivor. In fact, this season is one of our busiest times of the year. Your $50 or $100 donation during this season can make all the difference in the world for a survivor to cope and receive additional support they need.
 
A Peek at Our Ministry Home
Discovering MErcy's five-bedroom home is a haven for survivors during restorative ministry. Clients receiving intensive ministry sessions for two (2) to five (5) days may reserve a room at Discovering MErcy's Ministry Home. Our Ministry Home is located in a peaceful, loving environment where clients may enjoy the evenings to rest, reflect or explore the beautiful area. For more photos, click here.
 
Have You Heard Our Podcasts?
Are you up to date on Fern and Audrey's ministry as heard on The Naked Bible Podcast? Click here to listen to episodes and learn more about our unique ministry, hosted by Dr. Michael Heiser and produced with Trey Stricklin. 


Special Thanks!

We appreciate all the attendees and donors from the Naked Bible Podcast Conference in Texas this summer! Your support allows us to minister to people around the world and your interest gives confidence to our momentum. We thank you for standing with us!
 
The Latest on Our Curriculum 
We are grateful for a recent sponsorship toward our curriculum development project! Although we have hired an experienced editor to assist us with this project, we currently are balancing an influx of clients who need ministry time along with dedicated time to produce the content. Please pray with us for God's timing to produce materials we believe will lead our world to a more informed way to treat trauma survivors in 2019!
 
JOIN US TO HELP SET SURVIVORS FREE!
Consider becoming a major stewardship donor
Pledge monthly giving
Give a one-time gift
Make a difference in a survivor's life today!
 
Thank You for Supporting Us in Prayer
Fall Prayer Requests:
Wisdom and strength for us to manage and accomplish goals.
Financial support for our FAST Aid program, offsetting costs for survivors on their journey to love.
Individuals who are emotionally healthy and spiritually mature who are willing to commit to  support a survivor throughout their journey.
Funding and focused time for our curriculum project so we can teach and mentor others how to minister and care for survivors.
Attracting board members who can actively support the ministry as a working board.
For questions about Discovering MErcy, send us a note!