November 2018 Newsletter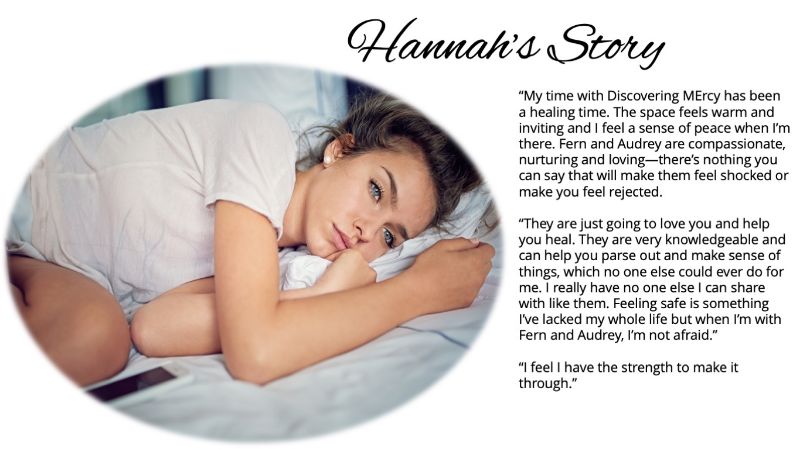 Click here for the HMTL version. 
2 Easy Ways You Can Help Discovering MErcy this Holiday Season
Help Hannah and Others Like Her When You Use Amazon Smile during Black Friday or Make a Donation for #Giving Tuesday
During this Thanksgiving week, we want to THANK YOU for your year-round outpouring of support and graciousness. Many people ask us, "What can we do to help?" Here are two easy ways to help us help others during the most difficult season of the year for those dealing with complex trauma.

1) Use Amazon Smile for your Black Friday shopping and Amazon will give Discovering MErcy a financial boost to help serve our community!
(If you don't already have Amazon Smile set up, on your first visit (smile.amazon.com), find Discovering MErcy from Amazon's approved list of eligible organizations. It's that simple! You can continue shopping and our organization will benefit throughout the holiday season.)
2) Every online donation given to Discovering MErcy's new Facebook page in support of #GivingTuesday to help survivors like Hannah will be matched next Tuesday! For every Hannah, there are currently 19 on our waiting list hoping to find gracious and kind donors like you who can match their funds to ensure biblical Christian counseling is given during some of their worst hours. 

When you support #GivingTuesday, Facebook and PayPal will match donations to our organization for gifts made between 8 a.m. EST and 11:59 p.m. EST Tuesday, November 27th, 2018 on a first-come first-served basis. 

We are grateful to be able to make an impact on behalf of survivors--and we couldn't do so without your support. For your ongoing interest and continual prayer support, we pass along our most sincere gratitude this Thanksgiving. 

In God's Love,
Fern & Audrey

p.s. Have you joined our Facebook community yet? Check it out today!