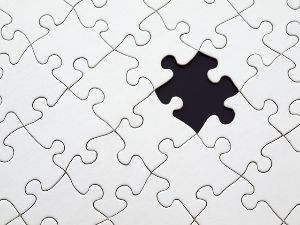 Read our entire October 2019 Newsletter.
You are Our Missing Piece!
Thanks to all who supported us at the Naked Bible Conference in Dallas!
 
by Fern, Executive Director

What a wonderful reception we had at the kick off Friday evening of the Naked Bible Conference in Dallas recently. You came to us with wide eyes and open hearts and we appreciated the time to explain more about our ministry and counseling efforts around trauma-based mind control and severe ritual abuse. Many of you shared your stories and offered to help support us in a variety of ways, and we were so touched at your generosity. 

As one of only two counselors working with clients, while also creating curriculum content, please know from the bottoms of our hearts how much it warmed us to know you stand with us and care about hearts that are hurting. We are honored to bring the love of Christ to the hearts of our clients. We want you to know God poured His strength into us through your support at the event and we are so grateful. We know it is only TOGETHER we can fully show God's love to one another and increase our impact for trauma survivors.
 
If we missed connecting with you, we'd love to do so here. To connect with us, reach us here.
Also in the October 2019 Newsletter: 
"Feeling a Sense of Belonging for the First Time"
What We've Been Up To, By the Numbers
Sign Up to Serve on Our Prayer Team
List of Prayer Requests