How Fit Is Your Brain?

We Have Partnered With The Amen Clinics And BrainMD To Help You Lead A Healthy Life
Fern & Audrey recently earned 50 continuing education credits with Dr. Daniel Amen's Brain Health Coaching Course and are Amen Clinics Certified Brain Health Coaches. Amen Clinics is one of the world leaders in applying brain imaging science to help people and Dr. Amen is one of America's leading psychiatrists and brain health experts.
Success in anything you do starts with an optimized brain. Fern and Audrey received in-depth training on a multitude of conditions ranging from ADD/ADHD, anxiety, depression, memory issues, mood disorders, brain trauma, sleep disorders, and weight issues. 

The products are developed based on solving the needs for a naturally brain-healthy life, but their ingredients, combinations, and dosages are always grounded in science.
Take Dr. Daniel Amen's free Brain Health Assessment to discover your Brain Type and your Brain Fit Score!

As certified Brain Health coaches, Discovering MErcy is now a licensed BrainMD affiliate and can offer BrainMD Supplements and free shipping on any order more than $75. All affiliated proceeds from sales will benefit our Fearless Love Scholarship Fund. Below is an overview of some of the more popular products: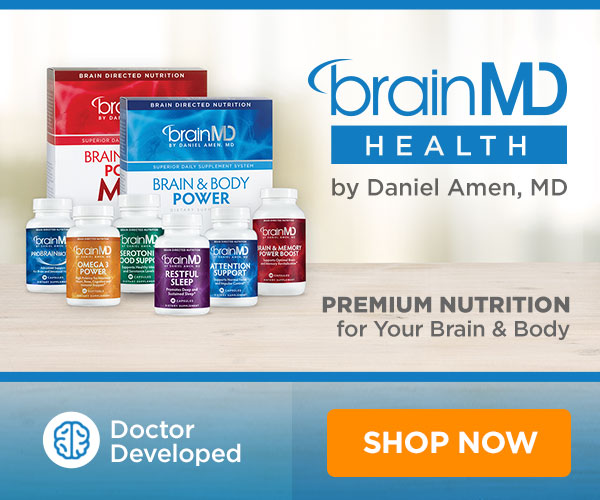 Brain & Body Power: Our favorite- a supplement system consisting of the top 3 essential, everyday supplements
Brain & Body Power Max: The same 3 supplements in Brian & Body Power, but in elevated levels for even more brain support. 
Brain & Memory Power Boost: A multi-mechanism approach to supporting brain function, connectivity, and memory.
Serotonin Mood Support: Supports the balance of serotonin in the brain which helps to brighten your mood and fight back negative thoughts.
Focus & Energy: Helps your brain focus and supports a healthy energy level so you can get more done without caffeine.
Contact us to receive Discovering MErcy sponsored BrainMD product promotions emails.
All affiliated proceeds from sales will benefit our Fearless Love Scholarship Fund. 
Read more about Amen Clinics. Read more about Dr. Daniel Amen.
Seeing Truth - Educational Videos
Our Recommended Videos
The following is a compilation of videos we feel give sound Biblical theology and teaching. Check these out and expand your knowledge! And make sure to subscribe to our new Discovering MErcy YouTube channel!
"THIS WON'T BE THE END OF MY STORY"
The artist releases the first single written in honor of the healing journey she started with Discovering MErcy.
"This song is very dear to my heart. It's RAW and REAL! It's straight from my heart to yours! It comes from a season of feeling beat up and knocked down by life- circumstances-emotions,  while envisioning myself getting beat up repeatedly, a cry arose from my spirit "THIS WON'T BE THE END OF MY STORY!"
Stream this song on Spotify or iTunes. Special thank you to Christine for sharing with us!
Videos By Bréne Brown
Dr. Brené Brown is a research professor at the University of Houston. She has spent the past two decades studying courage, vulnerability, shame, and empathy and is the author of five #1 New York Times bestsellers: The Gifts of Imperfection, Daring Greatly, Rising Strong, Braving the Wilderness, and her latest book, Dare to Lead, which is the culmination of a seven-year study on courage and leadership. For more bio information, visit BreneBrown.com.
"Shame Shields" by Brene Brown, a free 60-minute CE Course (geared for counselors).
VIDEO BY DR. JIM WILDER
Dr. Jim Wilder (PhD, Clinical Psychology, and M.A. Theology, Fuller Theological Seminary) has been training leaders and counselors for over 27 years on five continents. He is the author of nine books with a strong focus on maturing and relationship skills for leaders. His co-authored book "Living From the Heart Jesus Gave You" has sold over 100,000 copies in eleven languages. For more bio information, visit DeeperWalkInternational.org.
VIDEO ON NT WRIGHT LECTURE
NT Wright presents "Discerning the Dawn: History, Eschatology and New Creation" as part of the Gifford Lectures, 2018.