"Rescued People Rescue People"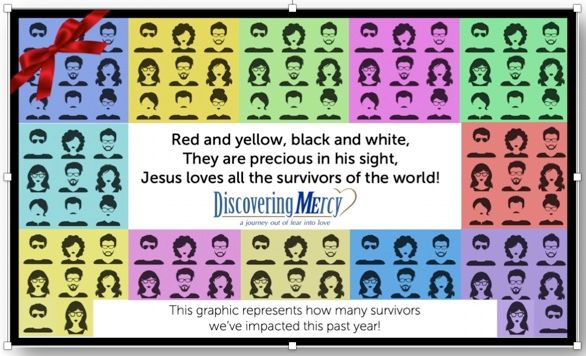 As a relatively new 501c3 non-profit, Discovering Mercy served 97 individuals in 27 states  and in 13 countries on 5 continents during the last year alone, with only two full time counselors and today and a team of new volunteer support! 
Family members and loved ones of trauma survivors often say that Discovering MERcy provided the only ray of hope when they were feeling most isolated, confused and alone. Our demand to keep up with new clients has prompted us to launch a new series of curriculum to network with others and spread the mission and vision of Discovering Mercy to new community groups, faith-based agencies and non-profits.

For every survivor already taking part in counseling, there are 20+ others we have not yet reached and many more hoping for a chance to show the world how they have discovered themselves and the grace of God for the first time. And because we have witnessed the process of "Rescued People Rescue People," we know any investment in our organization creates an undeniable lasting ripple effect for families, couples and children everywhere. 
Read From My Perspective by Fern.