Fern & Audrey recently earned 50 continuing education credits with Dr. Daniel Amen's Brain Health Coaching Course and are Amen Clinics Certified Brain Health Coaches. Amen Clinics is one of the world leaders in applying brain imaging science to help people and Dr. Amen is one of America's leading psychiatrists and brain health experts.
Success in anything you do starts with an optimized brain. Fern and Audrey received in-depth training on a multitude of conditions ranging from ADD/ADHD, anxiety, depression, memory issues, mood disorders, brain trauma, sleep disorders, weight issues. 

The products are developed based on solving the needs for a naturally brain-healthy life, but their ingredients, combinations, and dosages are always grounded in science.
Take Dr. Daniel Amen's free Brain Health Assessment to discover your Brain Type and your Brain Fit Score!

As certified Brain Health coaches, Discovering MErcy is now a licensed BrainMD affiliate and can offer BrainMD Supplements and free shipping on any orders more than $75. All affiliated proceeds from sales will benefit our Fearless Love Scholarship Fund. Below is an overview of some of the more popular products: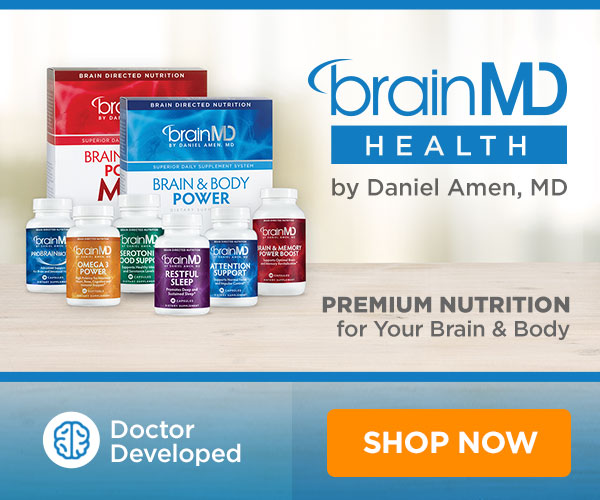 Brain & Body Power: Our favorite- a supplement system consisting of the top 3 essential, everyday supplements
Brain & Body Power Max: The same 3 supplements in Brian & Body Power, but in elevated levels for even more brain support. 
Brain & Memory Power Boost: A multi-mechanism approach to supporting brain function, connectivity, and memory.
Serotonin Mood Support: Supports the balance of serotonin in the brain which helps to brighten your mood and fight back negative thoughts.
Focus & Energy: Helps your brain focus and supports a healthy energy level so you can get more done without caffeine.
Contact us to receive Discovering MErcy sponsored BrainMD product promotions emails.
All affiliated proceeds from sales will benefit our Fearless Love Scholarship Fund. 
Read more about Amen Clinics.
Read more about Dr. Daniel Amen.